---
Para recibir información semanalmente, dejanos tu e-mail:
---

Buenos Aliens
en Facebook

Buenos Aliens
en Twitter
---
OTRAS NOTAS
Música recomendada por djs y productores argentinos
Kovic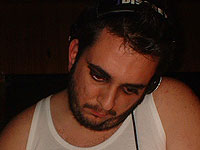 Fabrice - Lentitud [Not Released Yet]
Franco Cinelli - Emboskada (Gurtz Remix) [Alphahouse]
Ame - Rej [Defected]
Deulger + Gabriel Ananda - Hazer Roller [Traum Schallplatten]
Fairmont - Gazebo [Border Community]
Lawrence - Along The Wire (Troy Pierce Remix) [Ladomat]
Booka Shade - In White Rooms [Get Physical]
Patrick Chardronnet - Eve By Day (Fairmont Remix) [Connaisseur]
Gabriel Ananda - Miracel Woop - Doopelwhipper [Platzhirsch Schallplatten]
Ellen Allien - Turbo Dreams (Marc Houle Remix) [Bpitch Control]
Oliver Huntermann - French Fries [Gigolo]
Ada - Call The Tune [Areal]
Axel Barstch - Dark [Spiel-Zeug Schallplatten]
Oxia - Domino [Speicher]
Metope - Agapi [Art Of Perception]
Destillat - Cabrio [Klang Elektronik]
Lcd Soundsystems - Tribulations (Tiga Out Of The Trance Closet Remix) [DFA]
Fabrice - Lentitud (Loop)
Formato: Artista - Título (Versión) [Sello]
Aquí un set homenaje a los temas que más me gustaron en el 2006, lo cual no significa que todos hayan sido editados ese año. Espero les guste!!!
Pueden bajarlo en
www.archive.org/details/kovic0107
Y no se olviden de pasar por
www.punchidiscos.com.ar
A partir de marzo nuevos releases para bajar!
De momento podes disfrutar de:
[punchi001] Shemale - Ain't Gravity
[punchi002] BTB - Le Non So Far Away
[punchi003] Folke - Present Perfect
Tags: kovic
TRANSMISIONES RELACIONADAS
KOVIC