---
Para recibir información semanalmente, dejanos tu e-mail:
---

Buenos Aliens
en Facebook

Buenos Aliens
en Twitter
---
OTRAS NOTAS
Música recomendada por djs y productores argentinos
Gustavo Lamas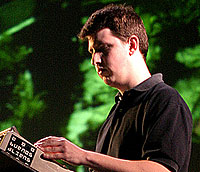 Música 007
Como los últimos años durante los primeros días de enero trato de hacer un balance con los discos que más me gustaron, me interesaron o me conmovieron a lo largo del año que se nos fué.
Estos son mis elegidos:
Klimek
con su ambient melancólico y profundo.
The Field
tras las pistas que dejó Love Inc y Gas.
Burial
agregando vocales a su oscuridad dubstep.
Panda Bear
juntándose con con sus coros celestiales a lo Beach Boys. Los Mouse on MarsMark e Smith para el proyecto
Vön Sudenfed
. Los paisajes del ex Japan
Steve Jansen
en el sello de David Sylvian que además pone su voz. Los experimentos y texturas de
David Toop
,
Senking
o el ambient dronero de
Stars Of the Lid
. El ruidismo de
Hasswell & Hecker
.
Deadbeat
incorporando ragga y con beats cada vez menos muertos. El regreso de
Pan Sonic
con su hipnotismo Noise y el de los célebres industriales
Trobbing Gristle
lejos de la repetición. La música negra siempre novedosa y reinventándose a través del hip hop de
Devine The Dude
,
UGK
,
Sa Ra
y
Shape of Broad Minds
; el Grime de
Durty Goods
, el rap oscuro de
Dalek
y el R'nB mainstream de
Rihanna
. Los
Deep Chord
con los ecos del dub techno que Basic Channel y Chain Reaction nos legó. La electrónica con sensibilidad femenina de
TBA
y
Gudrun Gut
. Los Collages y sonidos fantasmales de
Moon Wiring Club
,
Focus Group
y
Mordant Music
. El techno y house con sensibilidad pop de
Portable
y
Kalabrese
. La experiencia de años de techno y otras yerbas de
Thomas Felhmann
y
Neil Landstrum
. La Psicodellia de los
Dirty Projectors
o el Breackore asesino de
Bong-Ra
. Los disparates de
Felix Kubin
,
Octopus Project
y
Black Moth Super Rainbow
. El pop electro de los suecos
Studio
y el house casero entrañable del noruego
Bjorn Torske
.
Además, la lista de mis discos nacionales favoritos de lo editado por acá y mis temas más escuchados separados caprichosamente en estilos.
Al final, los videos que más me llamaron la atención de todo lo visto en youtube.
Feliz 2008 para todos !!!
Mis Discos Favoritos del 2007
. Klimek ? Dedications [Anticípate]
. The Field - From Here Go To Sublime [Kompakt]
. Burial - Untrue [Hyperdub]
. Panda Bear - Person Pitch [Paw Tracks]
. Steve Jansen - Slope [Samadhisound]
. Deadbeat - Journeyman's Annual [~scape]
. Von Sudenfed - Troamatic Refelxxions [Domino]
. Devin the Dude - Waitin' to Inhale [Rap-A-Lot]
. Sa Ra - The Hollywood Recordings [Baby Grande Records]
. Pan Sonic - Katodivahe [Blast First]
. DeepChord Presents Echospace - The Coldest Song [Echospace]
. Senking - List [Raster Noton]
. Felix Kubin - Axolotl Lullabies [Oral]
. TBA (Natalie Beridze) - Size and Tears [Max Ernst]
. UGK ? Underground Prinz [Jive]
. Bjorn Torske ? Fiel Knapp [Smalltown Supersound]
. Studio - West Coast [Information]
. Murcof - Cosmos [Leaf]
. Shape Of Broad Minds - Craft Of The Lost Art [Lex Records]
. Gudrun Gut - I Put a Record On [Monika]
. Moon Wiring Club - An Audience of Art Deco Eyes [Geophonic Audio Systems]
. Throbbing Gristle - Part Two - The Endless Not [Mute]
. Portable ? Power of Ten [Sud]
. Dalek - Abandoned Language [Ipecac]
. The Focus Group - We Are All Pan's People [Ghost Box]
. The Octopus Project ? Hello Avalanche [Peek-a-Boo Records]
. Black Moth Super Rainbow - Dandelion Gum [Graveface]
. Kalabrese - Rumpelzirkus [Stattmusik]
. David Toop - Sound Body [Samadhisoud]
. Thomas Felhmann ? Honigpumpe [Kompakt]
. Neil Landstrumm - Restaurant Of Assassins [Planet Mu]
. Cex - Sketchi [Temporary Residence Limited]
. Bong-Ra - Full Metal Racket [Adnoiseam]
. Stars Of The Lid - And Their Refinement of the Decline [Kranky]
. Mordant Music - Carrion Squared [Mordant Music]
. Riahanna - Good Girl Gone Bad [Def Jam]
. Durrty Goodz - Axiom EP
. Harmonia ? Live 1974 [Gronland]
. The Dirty Projectors - Rise Above [Dead Oceans]
. Haswell & Hecker - Blackest Ever Black [Warner Classic]
Formato: Artista - Título (Versión) [Sello]
Nacionales
. Isla de los Estados ? Latitud
. Pinkler/ Reche ? Debajo
. Marcelo Fabian - Sed De Mal
. Diosque ? I Can cion
. Anla Courtis - Las Sales Fundentes
. Aldo Benitez - El portafolio sin Peso
. Pez - Los Orfebres
. Olga - Flora y Fauna
. Gaby Bex ? Mandona
. Emisor - Emisor
Temas Favoritos
Tech, House, Bolichera, Etc..
. Roland Appel ? Dark Soldier
. The Field - Over The Ice
. Claro Intelecto - Dependant
. Portable ? Kuiper Belt
. Jamie Lloyd - What We Have (...Is A Zwicker Remix)
. Dj Jud Es ? Come on and Dance
. Nico Purman - Remember the good times
. Metro Area - Read My Mind
. Kelley Polar - Roseband
. Noze - Remeber Love
. Broke ? We Ain't Go it
. Lawrence ? Compulsión
. Martinez Brother ? My Rendition
. Mathew Dear - Don and Sherri
. Dubfire ? Rib
. Vön Sudenfed - Flooded
. Kalabrese - Hide
. Junior Boys - In the Morning (Hot Chip Mix)
Pop Main
. Britney Spears ? Gimme More
. Roisin Murphy ? Overpowered
. Amy Whitehouse ? Tears Dry On Their Own
. Private - My Secret Lover
. Girls Aloud - Can't Speak French
. Sally Shapiro ? Hold Me So Tight
Post Post Pop
. Steve Jansen - Sleepyard
. Animal Collective - Peacebone
. Pluranom ? Border
. Panda Bear ? Bros
. Studio - Self Service
. Black Moth Super Rainbow - Whe The Sun grow on your tongue
. Tujiko Noriko - In a Chinise Restaurant
. Tusia Berizde ? Beam Plaster
Pop Clásico
. Paul McCartney - See your Sunshine
. Richard Hawley - Tonight The Streets are ours
. High Llamas - Clarion Union Hall
. Lewis Taylor - The Leader of the band
. When ? Trippy Happy
Hip/Hop, R/N/B, etc
. Rihanna - Don't Stop the Music
. UGK - Intl. Players Anthem (IChopose You)
. Dizze Rascal con Lilly Allen - Wanna Be
. Kanye West ? I Gonder
. R. Kelly - Freaking In The Club
. NY - Willow
. Kano - Me & My Microphone
. Timbaland - Release
. Devine The Dude - Cutcha Up
. Sa Ra - Glorious
. Amerie - That's What UR
. Craig David ? Hot Staff
. Cromeo ? 100%
. Prince - Future Baby Mama
Dub, Dusbtep. Etc
. 2562 - Channel 2
. Modekselector con Paul St. Hilaire - Let Your Love Grow
. Pinch con Yolanda - Get Up
. Burial ? Archangel
. Deepchord presents Echospace - Abraxas
. The Bug feat. Killa P and Flow Dan - Skeng (Kode 9 Mix)
. Deadbeat - Gimme Little Snack
. Cex - Ratller Bin
Breaks/Breakcore/OldRave
. SickBoy - The Riddler
. PissTank - Punching
. FFF - Coming Hardcore
. Cardopusher - 25 Years For Morder
. Mochipet - FlapperCore
. Dev/Null - Alien Washcloth Tumor
. Glowstyx - Aethema
. Neil Landstrum - Kids Wake Up
. Bong Ra ? Eareche
. The Tuss ? Death Fuck
Videos Favoritos
Klimek - For Ezekiel Honig & Young (pan) Americans
Moon Wiring Club Living Furniture
Von Sudenfed - Fledermaus Can't Get It
The Field - Over the Ice
The Octopus Project - Truck
SA-RA - Feel the Bass (feat. Talib Kweli & Erykah Badu)
Gudrun Gut - Move Me
Rihanna - Don't Stop The Music
Private - Crucify My Herat
Black Moth Super Rainbow - Sun Lips
Matthew Dear - Don and Sherri
Panda Bear - Comfy In Nautica
Britney MTV 2007
Bong - RA Jo Bench
Boredoms live w/ 77 Drummers on 7/7/07
Daft Punk - Live @ Wireless Festival 2007 pt.1
Drop The Lime - E Lock
end.user - End of A Beginning (Sublight Version)
www.myspace.com/gustavolamas
www.fotolog.net/mareante
Fechas:


08/01/08
+160 desde las 00 Hs
Gustavo Lamas Dj Set Estilo libre, Murdock y BB Orange
17/01/08
Atardeceres electrónicos en La Morocha Playa del Sur desde las 15 hs
Gustavo Lamas + Jay Haze (USA/Berlin) (Tuning Spork / Future Dub) + Pedro el dj
17/01/08
Mr Jones bar / Alem 3738 / Mar del Plata / de la 01 hs en adelante
Gustavo Lamas + Pura dj set
Tags: gustavo lamas
TRANSMISIONES RELACIONADAS
GUSTAVO LAMAS