---
Para recibir información semanalmente, dejanos tu e-mail:
---

Buenos Aliens
en Facebook

Buenos Aliens
en Twitter
---
OTRAS NOTAS
Música recomendada por djs y productores argentinos
Bad Boy Orange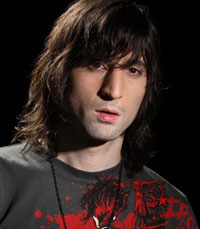 DRUM & BASS EDITADOS TOP 10
01- Sonic & Silver - Rocket Launcher (2008 remix) [Virus]
02- London Elektricity - Just One Second [Hospital]
03- Spor - Clarets March [Lifted]
04- John B - Dancing In The Dark [Beta]
05- Chase and Status feat Plan B - Pieces [Ram]
06- D Kay and Lee - Extacy [Metalheadz]
07- Redeyes feat Sweed - Poetry In Motion [Sperhead]
08- Calibre - Electric Soul [Soul:R]
09- Makoto and Deeizm - Monotonik [Bingo]
10- Benga and Coki - Night (Breakage and Shy FX Digital Soundboy mix) [Tempa]
Formato: Artista - Título (Versión) [Sello]

DRUM & BASS "MUY PRONTO" RECOMENDADOS
Paul SG - 2nd Grade [dub]
W.T. - It's So Nice [Blu Saphir Recs dub]
Turtled - Tropico [dub]
Giorgiolive & Bass Reflex - Love is not a game [dub]
A Sides - Tokiado [EastSide dub]
Dj Andy & Mikrob - Angles RMX [dub]
Carl Matthes and Tyler Straub - Avani [Break The Surface dub]
S.P.Y - Seeing Thru Shadows [C.I.A dub]
Bass Reflex - Contrabass 2008 [dub]
Orange - No Choice [+160 dub]
Zardonic - Falling Up [dub]
Drumagick - Green Notes [Tupy dub]
??? - Typhoon [Chronic dub]
M Jazzy - River [BeatMasters dub]
Tiki - Always On My Mind (Zero T + Mosus Remix) [Liquid V dub]

Formato: Artista - Título (Versión) [Sello]

DUBSTEP/BASSLINE/WEIRDHOP/BREAKZ RECOMENDADOS
Unitz - The Drop [Dub Police]
Joker - Gully Brook Lane [Terrorhythm Recordings]
Dabrye - Air feat. Doom (Kode 9 remix) [Ghostly]
TC - Wheres My Money Caspa remix [D-Style]
Pinch - Qawwali V.I.P. [Planet Mu]
Shimon vs Nixon - Sexy Beast [Finger Lickin']
Martyn - Natural Selection [3024]
Guilty Simpson - For The D (Harmonic 313 remix instrumental) [Fat City Recordings]
Shut Up And Dance - Come To Turn It Out [Shut Up & Dance]
Flying Lotus - Breathe . Something/Stellar STar [Warp]
Martyn and Marcus Intalex - After Seven [Revolve:R]

Formato: Artista - Título (Versión) [Sello]

************************************************************
+ INFO LINKS
+160
Las fiestas drum & bass y ritmos amigos, los martes en Bahrein, Lavalle 345
http://www.mas160.com
Bad Boy Orange Myspace
http://www.myspace.com/orangebadboy
Bad Boy Orange Fotolog
http://www.fotolog.com/badboyorange
Bad Boy Orange FaceBook
Buscá "Bad Boy Orange" y suscribite!
http://www.new.facebook.com/pages/Bad-Boy-Orange/21020500840
+160 en Buenos Aliens Foros
http://www.buenosaliens.com/foros/mensajes.cfm/id.23353
+160 Flyer
http://mas160.com/flyer
+160 Galería (muchas fotos!)
http://mas160.com/cpg
+160 YouTube Channel
http://www.youtube.com/plus160
+160 Myspace
http://www.myspace.com/plus160
+160 Fotolog
http://www.fotolog.com/mascientosesenta
+160 FaceBook
Buscá "+160 Drum & Bass Suite" y suscribite!
http://www.facebook.com/group.php?gid=15649530180
Mi descuidada web
http://www.djorange.com
************************************************************

NOTICIAS: MINI DOCUMENTAL DE BAD BOY ORANGE
Con motivo de la campaña "Be True" de relanzamiento de su mítico modelo de zapatillas Dunk, Nike realizó una serie de mini documentales sobre diferentes artistas entre los cuales se encuentra Bad Boy Orange. Dirigido por Joaquín Cambre, este desopilante corto se mete en la vida del chico malo naranja, para entregarnos su óptica del disparate.

Ver Bad Boy Orange - Nike Dunk "Be True" desde el +160 YouTube Channel


Web oficial
http://dunkbetrue.com
************************************************************

GALERIA: GRAN UPDATE!
Dillinja, Marky, Bryan Gee, TC, Shimon, Andy, S.P.Y, BAFJ, BBOFC, TODOS!
Tiempo de revivir los mejores momentos de la suite con esta nueva entrega masiva de fotos, esta vez con el registro de la visita del +160 Sexto Aniversario con Dillinja (17AGO2008); la revancha de TC (8JUL2008); el padrino Bryan Gee con MC Darrison (17JUN2008); el encuentro anual de Bs.As. Frente Jungle (27MAY2008); la super noche con
Shimon (1°ABR2008); el amigo de la casa Dj Andy (19FEB2008); el joven S.P.Y (18DIC2007); el tornado de Brasil Dj Marky (20NOV2007); y las imágenes del Bad Boy Orange Freak Circus en la Creamfields (10NOV2007).

TODOS en nuestra Galería +160, Hagan CLIK!. Disfruten.
http://mas160.com/cpg
************************************************************
Tags: bad boy orange
TRANSMISIONES RELACIONADAS
BAD BOY ORANGE