---
Para recibir información semanalmente, dejanos tu e-mail:
---

Buenos Aliens
en Facebook

Buenos Aliens
en Twitter
---
OTRAS NOTAS
Música recomendada por djs y productores argentinos
Bad Boy Orange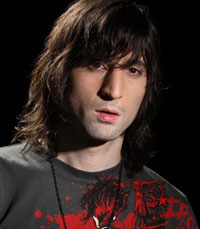 DRUM & BASS EDITADOS TOP 10
01- S.P.Y - Seeing Through Shadows [C.I.A]
02- Commix - Rack It [Hospital]
03- Martyn - Baby Baby [Crunch]
04- Marcus Intalex - Skizm [Soul:R]
05- Rufige Kru - Monkey Boy (Doc Scott Remix) [Metalheadz]
06- Mosus and S.P.Y - 1999 [Samurai Music]
07- Atlantic Connection - Echo Park [Influenza Media]
08- Seba & Krazy - Arsenic [Innerground]
09- London Elektricity - All Hell Is Breaking Loose [Hospital]
10- Kjell - Dunnshine [Creative Source]
Formato: Artista - Título (Versión) [Sello]

DRUM & BASS "MUY PRONTO" RECOMENDADOS
Mjazzy - Zumbi Dos Palmares [dub]
Isaac Maya - Gotcha [dub]
Bass Reflex - Feel The Funk [dub]
Giorgiolive & Wes feat Eugenia Craviotto - Back to Jacana [dub]
A Sides & Makoto - Space Train [dub]
Orange - Pardon Me [+160 dub]
Dinho Mk3 - Deep Love [dub]
Loder - Let It Up [BlackSideInc dub]
Dj Bristol - T-Dub 2008 (vip II) [dub]
Furney - Jahman [Liquid V dub]

Formato: Artista - Título (Versión) [Sello]

DUBSTEP/BASSLINE/WEIRDHOP/BREAKZ/OTROS RECOMENDADOS
Lopez - 4 Dancers [dub]
Diminutos - Obligo Al Entusiasmo (Leonel Castillo remix) [dub]
Sub Scape - Bad Man [Dub Police]
Clouds - Timekeeper [Ramp]
Uncle Sam - Under The Dancing Feet feat Tiiu (Tes La Rok Remix) [Argon]
Squarepusher - A Real Woman [Warp]
Headhunter - Your Say [Tempa]
Nero - Bad Trip [Audio Freaks]
HATE - Pretty Boys Don't Survive Up North (GFTUA mix) [HATE]
Suspicious Stench - Mega [XS Dubz]

Formato: Artista - Título (Versión) [Sello]



************************************************************
AGENDA: OCTUBRE 2008 EN +160
+160, 6 AÑOS MARCANDO LAS REGLAS
TODOS LOS MARTES DESDE AGOSTO 2002
DE 23:00 a 4:30 AM @ BAHREIN
------------------------------------------------------------
7 OCTUBRE 2008
23:00 Adrox / 01:30 Ivan Johnson / 03:00 BBO
Vj: Hypnotika
------------------------------------------------------------
14 OCTUBRE 2008
23:00 Luis Zerillo (La Plata) / 01:30 Dj Buey / 03:00 BBO
Vj: i2off.org + r3nder.net
------------------------------------------------------------
21 OCTUBRE 2008
+160 EDICIÓN ESPACIAL presenta
24:00 Bad Boy Orange / 02:00 DJ SUV (Bristol,UK)(Playside/Full Cycle/V)
Vj: Gi
------------------------------------------------------------
28 OCTUBRE 2008
CUMPLEAÑOS BAD BOY ORANGE DESCONTROL!!!
23:00 > 06:00 +160 CREW + INVITADOS
DJS: BUEY + GIORGIOLIVE + FELIPEE + SPEKTRE
LUIS ZERILLO + EMISOR + LODER + MAGA-LEE
OLDBRAIN + MIGUELIUS + BEATXIONARIO
PABLO TERREIL (CLUB RAYO) + EL CUMPLEAÑERO E
INVITADOS SORPRESA
VJS: HYPNOTIKA + GI + I2OFF+R3NDER + D3MIAN
SEBASS + OJOROJO + CENTER0 Y MÁS
------------------------------------------------------------
+160, 6 AÑOS MARCANDO LAS REGLAS
TODOS LOS MARTES DESDE AGOSTO 2002
DE 23:00 a 4:30 AM @ BAHREIN
+160 @ Bahrein, Lavalle 345 (entre Reconquista y 25 De Mayo), Nuevo Bajo/Microcentro, Cdad. A. Buenos Aires, Argentina.
Agenda +160 Completa
www.mas160.com/agenda
************************************************************
+ INFO LINKS
+160
Las fiestas drum & bass y ritmos amigos,
los martes en Bahrein, Lavalle 345
www.mas160.com
Bad Boy Orange Myspace
www.myspace.com/orangebadboy
Bad Boy Orange Fotolog
www.fotolog.com/badboyorange
Bad Boy Orange FaceBook
Buscá "Bad Boy Orange" y suscribite!
www.new.facebook.com/pages/Bad-Boy-Orange/21020500840
+160 en Buenos Aliens Foros
www.buenosaliens.com/foros/mensajes.cfm/id.23353
+160 Flyer
mas160.com/flyer
+160 Galería (muchas fotos!)
mas160.com/cpg
+160 YouTube Channel
www.youtube.com/plus160
+160 Myspace
www.myspace.com/plus160

+160 Fotolog
www.fotolog.com/mascientosesenta
Mi descuidada web
www.djorange.com
************************************************************
NOTICIAS: MINI DOCUMENTAL DE BAD BOY ORANGE
Con motivo de la campaña "Be True" de relanzamiento de su mítico modelo de zapatillas Dunk, Nike realizó una serie de mini documentales a diferentes artistas entre los cuales se encuentra Bad Boy Orange. Dirigido por Joaquín Cambre, este desopilante corto se mete en la vida del chico malo naranja, para entregarnos su óptica del disparate.
Ver Bad Boy Orange - Nike Dunk "Be True" desde el +160 YouTube Channel

Web oficial
dunkbetrue.com
************************************************************
GALERIA: GRAN UPDATE!
Makoto, Dillinja, Marky, Bryan Gee, TC, Shimon, Andy, S.P.Y, BAFJ, BBOFC, TODOS!
Tiempo de revivir los mejores momentos de la suite con esta nueva entrega masiva de fotos, esta vez con el registro de la visita del Makoto y Deeizm (16SEPT2008), del +160 Sexto Aniversario con Dillinja (17AGO2008); la revancha de TC (8JUL2008); el padrino Bryan Gee con MC Darrison (17JUN2008); el encuentro anual de Bs.As.Frente Jungle (27MAY2008); la super noche con Shimon (1°ABR2008); el amigo de la casa Dj Andy (19FEB2008); el joven S.P.Y (18DIC2007); el tornado de Brasil Dj Marky (20NOV2007); y las imágenes del Bad Boy Orange Freak Circus en la Creamfields (10NOV2007).
TODOS en nuestra Galería +160,
Hagan CLIK!. Disfruten.
mas160.com/cpg
Además no te pierdas los reviews de cada noche +160, semanalmente en el blog de +160 (incluye videos!).
mas160.com
************************************************************
VIDEO RECOMENDADO
London Elektricity - All Hell Is Breaking Loose [Hospital]
Primer corte del nuevo álbum de London Elektricity "Syncopated City" que se consigue desde hoy en Hospital Records o las principales disquerías digitales.
El video, que según Tony Colman, "es una especie de Thriller pero con lounge drum & bass de fondo" está dirigido por Kenny Frankland.
************************************************************
Tags: bad boy orange
TRANSMISIONES RELACIONADAS
BAD BOY ORANGE