---
Para recibir información semanalmente, dejanos tu e-mail:
---

Buenos Aliens
en Facebook

Buenos Aliens
en Twitter
---
OTRAS NOTAS
Música recomendada por djs y productores argentinos
Gustavo Lamas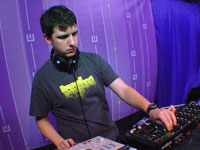 Favoritos 2001
Discos
Clams Cassino "Rainforest" (Tri Angle)
James Ferraro "Far Side Virtual" (Hippos In Tanks)
Marcelo y Aldo "Idem" (Peatón Discografica)
Maria Minerva "Tallinn at Dawn" (Not Not Fun)
John Mauss "We Must Become The Pitiless Censors Of Ourselves" (Upset The Rhythm)
Gang Gang Dance "Eye Contact" (4 AD)
V/A "Mujeres Planta Total 2" (Spit On BPM)
Rustie "Glass Words" (Warp)
Rebolledo "Super Vato" (Cómeme)
Balam Acab "Wander/Wonder" (Tri Angle)
Diosque "Bote" (Self Release)
http://www.diosque.com.ar/bote.html
Benitez- Pinkler "Sopa Fantasma" (Spit on BPM)
Destroyer "Kaputt" (Merge Records)
Machinedrum "Room(s)" (Planet Mu)
Martyn "Ghost People" (Brainfeeder)
Tim Hecker "Ravedeath 1972" (Kranky)
Oneohtrix Point Never "Replicas" (Software)
L.V. & Joshua Idehen "Routes" (Keysound)
Cosmin TRG "Simulat" (50 Weapons)
Moomin "The Story About You" (Dial)
Come Truise "Galactic Melt" (Ghostly International)
Deadbeat "Drawn_and_Quartered" (BLKRTZ)
Julianna Barwick "The Magic Place" (Asthmatic Kitty)
Hype Williams "One Nation" (Hippos in Tank)
Nebraska "Displacement" (Rush Hour)
TEMAS
Blawan "Getting Me Down"
Julio Bashmore "Battle For Middle You"
Osunlade "Envision" (Ame Remix)
Hyetal "Phoenix"
Dj Rashad "Love You Found"
Deadboy "Wish you were here"
Hudson Mohake "All Your Love"
Leonel Castillo "Del Wish It Was Me"
Steffi "Yours"
Virgo Four "Sex"
Motor City Drum Ensamble "Love"
Gil Scott Heron/Jamie XX "N.Y is Killing Me"
Grimes "Vanessa"
Creep "Days" (Deadboy Remix)
Jessica 6 "Prisioner Of Love"
Beth Ditto "I Wrote The Book"
Little Dragon "Seconds" (Syd The Kid Remix)
Art Department "Tell Me Why"
Azari & III "Manic"
Katy B feat Ms Dynamite "Lights On"
Hercules & The Love Affair "My House"
Portable "Find Me"
Tropics "Mouves"
Britney Spears "Till The Ends Worlds"
Scuba "Adrenalin"
Drake Feat. Riahanna "Take Care"
Falty DL "Make it Difficult"
Adisson groove "This is it"
Ital "Culture Club"
Una pasada con algunos de mis favoritos
Facebook:
http://www.facebook.com/gustavo.lamas
Twitter:
@mareante
Tags: gustavo lamas
TRANSMISIONES RELACIONADAS
GUSTAVO LAMAS