---
Para recibir información semanalmente, dejanos tu e-mail:
---

Buenos Aliens
en Facebook

Buenos Aliens
en Twitter
---
OTRAS NOTAS
JUE 01 NOV 2012
Alejandro Mosso
El elegido de Sven Väth
Al final de cada temporada de verano,
Sven Väth
se encarga de compilar los tracks más representativos de lo que pasó en los lunes del club Amnesia de Ibiza, en la fiesta que el alemán comanda en nombre de su selllo, Cocoon Recordings.
Sven Väth poniendo en vivo Cashmere, de Alejandro Mosso
La decimotercer entrega de la serie de mixes denominada The Sounds of the... -que será puesta a la venta en una semanas- cuenta con un valor agregado para nosotros, ya que un compatriota es parte del tracklist. Hablamos de
Alejandro Mosso
, también conocido como
Funzion
, uno de tantos argentinos que probablemente es más considerado en Europa que en su propia tierra. El track en cuestión es Cashmere y fue editado por el mes de marzo en su propio label, Mosso.
Pero esto no es una novedad para él, ya que había corrido similar suerte hace tres años, en la décima versión de las compilaciones de Väth, cuando este eligió su track Somebody. En esa misma ocasión, también apareció
Nico Purman
remixando un tema del uruguayo
Sebastian Lutz
(Im Telling You).
La fecha de estreno para The Sounds of the 13th Season es el próximo doce de noviembre y entre algunos de los artistas seleccionados, se destacan
Ben Sims
,
Silent Servant
,
Planetary Assaults Systems
,
Four Tet
y
Roman Flugel
.
CD1
01. Terranova - Question Mark feat. Thomas Hoffding (Adam Port Remix)
02. wAFF - Jo Johnson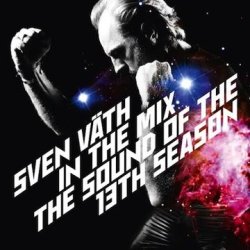 03. WK7 - Do It Yourself
04. Margot - Liuff Settanta
05. Tuff City Kids - SFS
06. Octave One - The Greater Good (P.A.S. Remix)
07. Ben Sims - Straight from Bolivia
08. Sam Paganini - Prisma
09. Sawlin - Datamen Working
10. Planetary Assault Systems - Black Tea
11. Exercise One - Top Score (Stop Thinking!)
12. Silent Servant - Mad Youth
13. Ray Kajioka - Thrill
CD 2
01. Makam - Images
02. Romanthony - The Wanderer (Dixon Edit)
03. &ME - Everlesss
04. Julien Bracht - Grace
05. Alejandro Mosso - Cashmere
06. Lawrence - Etoile Du Midi
07. Rhadoo - Geemac
08. Roman Flügel - Cookie Dust
09. Four Tet - Ocoras
10. Uner - Sol
11. Gathaspar - She's Not From Here
12. Soy Mustafa - The Return of the Anunnaki (John Tejada Remix)
http://www.cocoon.net/releases/cormix042_sven_vath_the_sound_of_the_13th_season
Tags: sven väth - alejandro mosso - funzion - nico purman - sebastian lutz - ben sims - silent servant - planetary assaults systems - four tet - roman flugel
TRANSMISIONES RELACIONADAS
FUNZION
NICO PURMAN