---
Para recibir información semanalmente, dejanos tu e-mail:
---

Buenos Aliens
en Facebook

Buenos Aliens
en Twitter
---
OTRAS NOTAS
2000
MIE 27 SEP 2000
Hernan Cattaneo larga duracion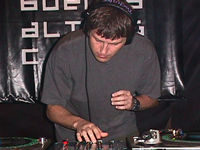 No queda mucho por decir de Hernán Cattáneo que no se sepa. Sobre todo cuando, como el miércoles 27 de septiembre, el deejay toca cinco horas y media sin parar. Vale más un set de cincuenta temas seleccionados con un criterio que tiene marca registrada y mezclados con una técnica impecable que mil palabras. Pero por las dudas, también le hicimos un reportaje en el que nos llenó de información.
Plagado de promos y white labels, acetatos y remezclas que quizás jamás lleguen a las disquerías, este set del residente de Clubland, compañero de cartel de Paul Oakenfold en su Perfecto Tour, y amigo de estrellas como Danny Rampling, Sasha y los Deep Dish, se caracterizó por ser de larga duración, característica que le permitió mostrarnos muchísimo material que va desde el vinilo que editó Club Rayo este año hasta tres versiones consecutivas de Ubik de Timo Maas en formato "promo-stomper escrito a mano-vaya a saber uno cuando se editará".
Terminado el set, Cattáneo demostró que aún le sobraban fuerzas y mantuvo un reportaje (también extenso) en el que contestó todas las preguntas que los agradecidos oyentes le realizaron, además de sortear vinilos y exclusivos mix-cds entre los que quedaban despiertos.
Como si todo ésto fuera poco, el deejay nos armó el track list de su set. Helo aquí, en formato Artista "Tema" (Versión) Sello:
Kayak "No Transes" Club Rayo Disquets
Pascal Vegas "I Know You Liked" Yoshi Toshi
Gemo/Fabriche vs. Street Vibes "Walking" Street Side
Mephisto Odissey "Sexy Dancer" Primal Tracks
Eddy Amador "The Funk" (Promo) Yoshi Toshi
Heller and Farley "The Rising Sun" (Promo) Junior
The Freak Projet "The Beat of the Drum" Soul Brother
The Freak Projet "The Beat of the Drum" (Steve Lawler remix) Soul Brother
Nilen & Katie "Sex Change" Blue Black
Dj. Dan "Put the Record Back On" (H Fundation Remix) Kinetic Records
Base Twelve "Deep" (Saeed & Palagemix) Sorte
Dj. Dan "Put the Record Back On" (Peace Division Remix) Kinetic Records
Boom! "Everybody Rock-It" BoomX
Blu Peter "Biological Response" React
Steve Lawler "Rise in" Bedrock
Greed "Promises" Sog
Paul Rodgers "Rithm Import" Sum Sonic
DiscoStatic (Promo)
Fire Wire (Promo)
Andy Moor "Violent City" Baroque promo
Parks and Willson "My Orbit" Hooj Choos
Jimmy Van M "Ecips" Fluid
Luke Slater "All It Exhales" Nova Mute
Saints and Sinners "Pushing Too Hard" (RMX - Promo) Bedrock
Xpress 2 "ACDC" Skint
Alchemy "Bruiser" (Promo) Bedrock
Lucien "Vivid Skyes" (Promo)
Sander Kleinenberg "Observaitor" (Promo)
Sister Bliss "Sister Sister" Multiply
Mono Culture "Ligth of my Life" (Promo)
?? (Promo) ??
Nukem vs. Chab "Shaiva" (Promo)
Tata Box Inhibator "Freet" Touche
Trancetters "The Search" Touche
Junkie XL "Zerotonine" Manifesto
Oscar Goldman "Trust 2" Carbon
Sasha y BT "Ride" YoshiToshi
Meat Katie "Meat Katie" King Size
Timo Maas "Ubik The Breaks" Perfecto
Timo Maas "Ubik The Dance" Perfecto
Timo Maas "Ubik The Techno" Perfecto
Blu Peter "Biological Response" (Pascal Feos RMX) React
Humate "Choose Life" (RMX) Superstition
UnderWorld "Cowgirl" Junior Boyz Own
Adamsky "In the City" (Promo)
Slam "Positive Education" (Slam RMX - Promo)
Slides "Glosure" Automatic
Cass & Slide "Opera" Fire
BT" Loving you more" Perfecto
The Orb "Little Fluffy Clouds" (Danny Tenaglia Downtempo Mix) Island