---
Para recibir información semanalmente, dejanos tu e-mail:
---

Buenos Aliens
en Facebook

Buenos Aliens
en Twitter
---
OTRAS NOTAS
Música recomendada por djs y productores argentinos
Dilo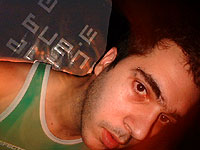 Formato: Artista - Título (Versión) [Sello]
01. Violett - Kids [Telegraph]
02. Onur Oezer - Twilight [Vakant]
03. John Gaiser - And Answer [Minus]
04. Seph - Wooden [Phonocult]
05. Ezekiel Honiq and Morgan Packard - Morning Migration with remixes [Microcosm]
06. Anja Scheneider & Sebo K - Rancho Relaxo RMXS [Mobilee]
07. Alex Smoke - Paradolia [Soma]
08. V/A - Isolation [Igloo]
Featuring Minirocke, Ampec, Fes, Violett, Ismael Pinkler, Gurtz y George S.
Out now:
* V/A Isolation [igloo-net008] (MP3)
* Elephant Pixel - Folk, Lisergia, Computers [igloo-rec01] (CD)
* V/A - Aires Buenos [Unfoundsound] (MP3)
Coming soon:
* Dilo vs Gurtz - Piedras [Roman-photo] (Vinilo)
* Dilo @ V/A - Post Office 3 [Telegraph] (CD & Vinilo)
* Dilo @ V/A - Compilado Latinoamericano [Konfort] (CD)
* Sondrie + Dilo - Appelkoeken [Zimplism] (Vinilo)
* Qik - Fall (igloo-net009) (MP3)
Próximas Fechas:
. 6/4 Dilo @ E*Music Club, Rosario
. 14/4 Dilo @ Club Mínimo, Niceto
Tags: dilo
TRANSMISIONES RELACIONADAS
DILO
NOTAS RELACIONADAS