CHART ENERO 2007
Gustavo Lamas
Los favoritos del 2006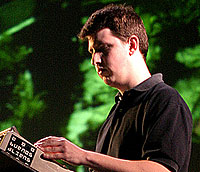 Gustavo Lamas
Otro año valiéndome de las ventajas del download, gracias al soulseek, o consiguiendo algunos originales vía la disquería "El Agujerito". Una vez más sin seguir ningún estilo en particular y tan ecléctico como siempre. Prefiero tener una panorámica desde el culo del mundo que encerrarme en un género o nicho del mercado.
Acá dejo una lista caprichosa con los álbumes que me parecieron más interesantes, me emocionaron, me hicieron mover la patita o me trasladaron a nuevos lugares. En mi "musimundo" de este año conviven las distintas variantes del pop (Scritti Politti, Beauty Room, Junior Boys o Post Industrial Boys), el dusbstep (Burial, Kode 9, Boxcutter, Skream), el hip-hop (J Dilla, Spank Rock, Ghostface), el ambient (Klimek, Tim Hecker, Taylor Dupree), los sonidos más oscuros (Liars, Sun o))) y Ktl) o el tecno/house (Lindstrom, My My, The Field, Soulphiction, Stephen Beaupreé).
A continuación la lista de mis favoritos con una pequeña descripción estilística que siempre puede orientar tanto como engañar. Por eso lo mejor es que cada uno haga su experiencia.

Scritti Politti - White Bread Black Beer [Rough Trade] Pop
The Beauty Room - Beyond And Infinite [Peacefrog] Pop
Belbury Poly - The Owls Map [Ghost Box] Electronica / Kraut
Burial - Burial [Hyperdub] Dubstep
Spank Rock - Yoyoyoyo [Big Dada] Uk Hip-Hop
Junior Boys - So this is Good By [Domino] Techno Pop
Tim Hecker - Harmony In Ultraviolet [Kranky] Ambient
Klimek - Music To Fall Asleep [Kompakt] Ambient
OOIOO - Taiga [Felicity] Noise Rock Japonés
Lady Sovereign - Public Warning [Def Jam] Hip Hop Uk
Post Industrial Boys - Trauma [Max Ernst] Electro Pop
Hot Chip - The Warning [Emi] Electro Pop
TBA Empty - Stupid Rotation [Max Ernst] Pop Techno
Booka Shade - Movements [Get Physical] Electro House
Soulphcition - State of Euphoria [Sonar Kollectiv] (House/Tech Soul)
Liars - Drums Not Dead [Mute] (2006) Noise Rock
Boxcutter - Oneric [Planet Mu] DubStep
Skoltz Kolgen - Post Piano [12 K] (Experimental/Ambient)
Rhymefest - Blue Collar [Allido] (Hip/Hop)
Matmos - The Rose Has Teeth In The Mouth Of A Beast [Matador] [Electroexperimental
The Field - Sun And Ice [Kompakt] 12" Sampler Tecno
Ghostface Killah - Fishcale [Def Jam] Hip Hop
Wasteland - All Versus All [Transparent] Dubstep Noise
Sun O))) & Boris - Altar [Southern Lord] Post Metal
Lilly Allen - Alright Still [Regal] Ska/2 Step/Pop
Coup - Pick a Bigger Weapon [Epitaph] Hip Hop
Taylor Dupree - Northern [12 K] Experimental/Ambient
Plan B - Who Needs Action When You Got Words [GBR] Guitar Grime
J Dilla - Donuts [Stones Trough] Hip Hop
Cut Chemist - The Audience Listening [Warner] Hip Hop
Stephen Beaupré - Foe Destroyer [Mutek Rec] Micro House
Wolf Eyes - Human Animal [Sub Pop] Noise
Drop The Lime - We Never Sleep [Tigerbeat 6] Breackbeat Retro Rave
Mordant Music - Dead Air [Mordant Music] Ambient /Dubstep/ Pop
Kode 9 & The Spaceape - Memories of the Future [Hyperdub] Dubstep
Thomas Brinkmann - Klicks Revolution [Max Ernst] Techno Experimental
Beans - Only [Thirsty Ear] Hip/Hop/Jazz
Dat Politics - Wow Twist [Chicks On Speed Records] Electro Punk
Skream - Skream! [Tempa] Dubstep
Keith Fullerton Willman - Lisbon [Kranky] Experimental/Ambient
Kerrier Distric - Vol. 2 [Rephlex] House/Acid
KTL - KTL [Mego] Dark Metal Ambient
Flying Lotus - 1983 [Plug Research] Hip Hop
Aloe Blacc - Shine Trough [Stones Throw] Hip Hop
James Figurine - Mistake, Mistake, Mistake, Mistake [Monika] Techno Pop
Rekid - Made In Menorca [SoulJazz] House
Cadence Weapon - Breakin Kayfabe [Upper Class] Hip Hop
Lindstrom - It's a Fidelity Affair [Smalltown Superstar] Electro Disco
The Roots - Game Theory [Def Jam] Hip Hop
My My - Songs for the Gentle [Playhouse] Tech House
Formato: Artista - Título [Sello] Estilo

Acá los temas que más pasaron por mi winamp o reproductor de turno:
Matmos – Steam And Sequins For Larry Levan
Ellen Allien & Apparat - Way Out
Janet Jackson – Enjoy
The Field – Over The Ice
Spank Rock - IMC
Junior Boys - Double Shadow
The Beauty Room – Soul Horizon
Cassie – Me and You
Herbert – Something Isn't Right
Psapp - The Only Thing I Ever Wanted
Scissor Sisters – The Other Side
Animal Collective - People
Bertine Zetlitz - Midnight
Scritti Politti – Eleventh Nuts
Nelly Furtado - Say It Right
Gui Boratto – Like You
Lindstrom - I Feel Space
The Pipettes – Dirty Mind
Cansei De Ser Sexy – Let's Make Love And Listen Death From Above
The Rapture – The Devil
Strange Fuit Project – Under Preasure
Bassement Jaxx - Hush Boy
Stephen Beaupré - Les Fills
Riahnna - S.O.S
Milanese – Caramel Cognac
The Blow - Pardon Me
Drop The Lime - Devils
Chicken Lips - White Dwarf
Cut Chemist - Metorail Thru Space
Rhymefest – More
Gostface Killah – Back Like That
Flying Lotus – 1983
Justin Timberlake - Sexy Back
Morgan Geist - Most Of All
The Coup - I Love Boosters
Lady Sovereign – 9 to 5
Burial - Sothern Confort
The Game - Wouldn't Get Far
Cornelius - Beep It
Ciara – I Proceed
Formato: Artista - Título

Busquen los videos de estos artistas en you tube.

Feliz 2007 !!!
www.myspace.com/gustavolamas
www.fotolog.net/gustavolamas