CHART FEBRERO 2007
Dokser
Yassin - Bleepy Creep (Cassy Mix)
Elektrochemie - Mucky Star
Davide Squillace - Sukkin Mutik
Alejandro Lopez - Bigudi
Rino Cerrone - Burnt It
Andre Crom - Dental Care
Benno Blome - Smoke Machine (Bruno Pronsato remix)
Alejandro Lopez - First
Christian Smith - Silver Bullet
Dan Curtin - Your Little Fantasy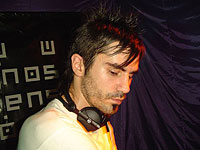 Formato: Artista - Título (Remix)
News:
New release for DLA records:
Dokser - No quiero ver
South Tour:
check tour dates at www.myspace.com/dokser
Dokser on Jesse Rose CHART!
Jesse Rose, Berlin [Front Room Recordings]
01. The Martin Brothers - The Martin Brothers EP
02. Gavin Herlihy & Craig Torrance - So That's What Happens (Isolée Remix)
03. Jesse Rose - Didn't I (Edit)
04. Dokser - Make Me Funk
05. Mikel Weel - Silmarions (Claude vonStroke Remix)
06. Magik Johnson - Scanning For Viruses
07. Jennifer Cardini & Shonky - August in Paris
08. E-Dance - World Of Deep (Jesse Rose Remix)
09. Samim - Do You See The Light
10. Black Joy - Untitled (Solid Groove Remix)

Dokser on Ben Sims & Chris Finke CHART!
Ben Sims & Chris Finke Pres The Split Show Nov/dec 2006
Split Chart Nov/dec 2006
5. Killa Productions - Feelin Acid 2 - Kb Records Inc
4. Phuture - Slam Dance - Bootleg
3. Suburban Knight - Alpha Game - Dark Print
2. Dokser - Make Me Funk - Minisketch
1. Zero Db - Conga Madness - Ninja Tunes
Recorded: 13/11/06 Theory Hq. London
Presented By: Ben Sims And Chris Finke
Mixed By: Ben Sims
Edited By: Chris Finke
www.splitmusic.net

# MOOG Ten Years CD released!
"Dokser - Detroit Flan" join with Tigerskin, Funk´d´Void, Dave Tarrida, Sector 7G and more...
www.masimas.com/moog/movie
www.buenosaliens.com/tienda/detalle.cfm/id.00330.htm
# New release for Minisketch Records
"Dokser - One help" it´s OUT NOW!
www.beatport.com/artist/Dokser

# Dokser's new remix for Pissed Off Recordings
CPM - Bells Dokser remix on Beatport digital record store
www.beatport.com/artist/Dokser

Dokser Radio Show:
Stay tuned with Dokser at Live from Barcelona Radio Show
www.kskradio.net 101.9 fm
Every thursday 23:59 to 01:59 AM (Buenos Aires, ARGENTINA time = 3AM to 5AM GTM / UTC-3 hours)
Other Countries & Cities:
Barcelona (España) 05:00
Paris (France) 05:00
London (UK,England) 04:00
New York (New York,USA) 23:00
San Francisco (California,USA) 20:00
Asunción (Paraguay) 23:00
Bogota (Colombia) 22:00
Caracas (Venezuela) 23:00
Lima (Lima,Perú) 22:00
México DF (México) 22:00
Montevideo (Uruguay) 00:00
Santiago (Chile) 23:00
Sao Paulo (São Paulo,Brazil) 00:00
Tokyo (Japan) 12:00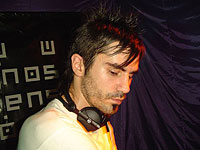 More info & Contact:
www.dokser.com.ar
www.beatport.com/artist/Dokser
www.minisketch.com
www.offsiderecordings.com/dokser
www.kskradio.net
www.myspace.com/dokser