CHART ENERO 2010
Joe Fisher
01 The Second & Joe Fisher - Persia (Seba Rebolero Remix) [Digital Noise Records]
02 Phunk Investigation - Have Natural (Bonus Mix) [Avanti]
03 Daniel Mehes & Mizantrop - Let me Sleep (Dub Mix) [Baroque Digital]
04 Alexi Di Stefano - New Order (Citizen Kain & Phuture Traxx Remix) [Diva]
05 Sezer Uysal - 40 Degrees In My Room (Nicholas Van Orton Remix) [Balkan Connection]
06 Mariano Favre - Septiembre (Fernando Ferreyra Remix) [Outside The Box]
07 Stefano Franca - The Pool (The Second & Joe Fisher Remix) [Minimatracx]
08 Ladies on Mars - Chico Alone (Reinvention Mix) [Whirpoolsex Music]
09 Maxi Iborquiza – Licht Dimmen (DISTAFF Remix) [Balkan Connection SA]
10 Oliver Moldan - Holy Cow (Giorgos Gatzigristos Remix) [Groovecollection Records]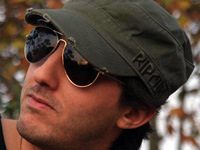 Joe Fisher
Formato: Artista - Título (Versión) [Sello]

Out Now por CE Records
Joe Fisher & The Second - Sarmiento (Original Mix)
http://www.beatport.com/labels/ce+records
http://soundcloud.com/djjoefisher/joe-fisher-the-second-sarmiento-original-mix-ce-records
Feedbacks:
ALEX KENJI "Furtado's and Calvetty tracks are very nice, gonna try them soon"
ANGY KORE "Great various!!! you have my full support"
MARC DE BREYNE "My favourite trax are Don't Get Up, Sarmiento, and Union. Good work!"
SONIQ "Amazing Tracks, Sarmiento is great, here in Germany the people will love it. Also liked Daniel Frontado and Enrique L. I will also use Mario Bo's track as opener for my next radio show"
SAMI WENTZ "Very beautiful release! Full support"
HANS TAVERA "Joe Fisher & The Second - Sarmiento Works good for me!"
ALE CASTRO "Thanx for the promo. Great music from The Second & Joe Fisher"
D-PHRAG "Thanks for this promo"
DIYO "Sarmiento from The Second & Joe Fisher for me"
PAUL HAZENDONK "Fiuset 'Not Reverse' is the one for me, fierce techno!"
STEFANO FRANCA "Massive deep/tech sounds here, im enjoying all the tracks! The best for me are Dont get up, Not reverse, Vuelo"
DPEN "Thank you for the tracks. I really enjoyed Daniel Frontado track and The Second & Joe Fisher's!"
OSCAR SALA "Good release! I like the tech groove of the tracks! full support!"
DJ PAUL "Great tune Henry CE & Vladd - Vuelo"
JUNIOR RIVERA "What can I say, more than excellent, great stuff!"
MARTIN BONANSEA "Henry CE & Vladd - Vuelo is my favorite from this pack"
MAXI IBORQUIZA "Great comp, lovely houses! I'll use Ambito, Daniel Frontado, The Second & Joe Fisher, Enrique Calvetti & Norberto Fornerino"
JAVI DOCE "Killer techno tracks on this album. The Fornerino track has a nice twist. Ambito "Lets M" is a solid groove. Lovin it! "Sarmiento" track has a real acid feel. Am really diggin' it. Brings me back to my first experiences with house music"

Out Now por Area Sur Records
Fernando Picon - Logical S (The Second & Joe Fisher Remix)
http://www.beatport.com/labels/area+sur
Feedbacks:
2nd place @ My Promo Pool Techno Chart!!!
Christian Cambas "Joe Fisher & The Second mix for me"
Paul Hazendonk "Solid release here for sure. I might give the Different track a try in my more melodic sets. This one puts a smile on my face"
Norman Bias "Congratulations! All mixes are great! Big Support"
Daniel Mehes "Logical S is my favorite version. Besides I like the Joe FIsher & The Second remix as well"
Oscar Sala "I like this release, for me Kei Mohebi, grooving remix! I'll play it!
Dave Sark "Smart Wave remix has a nice groove! Cool stuff"
Neftali Blasko "For me Joe Fisher & The Second remix, this guys do it again nice sound"
Franco Kaus "Good EP, the remix of Joe Fisher & The Second is for me"
d-phrag "Kei Mohebi remix is good"
Matt Gracie "Nice tech release, Joe Fisher & The Second remix is something that could work in my sets for sure"
Ale Castro "Joe Fisher & The Second remix is my favourite"
Feldraum "I like kei mohebi and The Second & Joe Fisher mix best"
Marc de Breyne "They're all a little to techy for me, excluding the Fisher & The Second mix"
Ariel Curtis "I select Joe Fisher & The Second Remix for me. Full support"
Javi Doce "Logical S" & "Different" tracks are gonna be incorporated into a special birthday session I have been working on. The vibe of these tracks will fit seamlessly into what I already have. I am pretty excited about it"
Sciadare "Groovy, techy, deep! Nice tunes"
dPen "Great tracks, but "Logical S (Original mix)" will be rockin my sets for this month"
Dj Fruto "I really enjoy to remember a sampler of that 80's classic of Supertramp on a Picon Mush up and version..thanks great"

Download
Anderson Noise & Joe Fisher @ Twisted Sounds #139
http://www.southamericadjs.com/pato/Joe/TwistedSounds139.zip
Joe Fisher Tracklist:
01. Aerodynamik - Interesting Sexxx (Glander Remix) Miniatura Records
02. Adam Port - Chemistry (Original Mix) Keinemusik
03. Gabriel Montufar Staying Dope (Santiago Deep Remix) Balkan Connection SA
04. Don't & Masque - Glow (Derek Howell Remix) Balkan Connection
05. Fernando Picon - Logical S (The Second & Joe Fisher Remix) Area Sur Records
06. Alex Di Stefano - New Order (Citizen Kain & Phuture Traxx Remix) DIVA
07. K-Pax - Bomb On The Dance Floor (Tech House Mix) Balkan Connection SA
08. The Second & Joe Fisher - Persia (Seba Rebolero Remix) Digital Noise Records
09. Exit Earth - The Sun (Jean Philips & Mike Kelly Instrumental Mix) Sorry Shoes
10. Dennis De Laat - Sound of Violence (Filthy Rich Remix) Confidence Recordings

Souvenir (ultimos 4 releases)
www.southamericadjs.com/pato/Joe/SouvenirPack.zip
------------------------------
Web: www.djjoefisher.com.ar
Myspace: www.myspace.com/djjoefisher
Label Manager: www.areasurrecords.com
Beatport: www.beatport.com/artists/joe+fisher
Dj List: www.thedjlist.com/djs/JOE_FISHER
Labels: Blue Bass, Empro Music, Bellarine, Balkan Connection, Quimika Records, Minima Tracx